PLEASE REMEMBER -- IT IS YOUR RESPONSIBILITY TO PACK YOUR BOOKS IN A HEAVY DUTY BOX WITH AMPLE PACKING MATERIAL AND SEAL THOROUGHLY WITH SHIPPING TAPE!!!! You MUST include all applicable cd's, disks, booklets and other text supplements with your shipment to ensure proper credit.
How do I ship my books?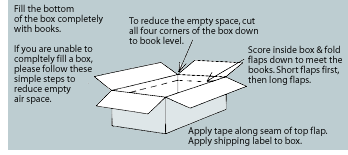 Pack your textbooks tightly in a heavy duty shipping type carton. A 70 pound-rated container is highly suggested. Lay books flat in the box with the spine of the book facing outward. Do not stand books upright. Secure all remaining open areas of the box, including the top, with ample packing material. We suggest styro-foam peanuts or bubble wrap. PLEASE DO NOT USE NEWSPAPER!
Include a copy of the packing list in the box before sealing. Seal your box thoroughly with a heavy duty shipping tape. We suggest sealing all seams, plus, applying two strips around the perimeter of the container for extra support. DO NOT use masking or scotch tape. Securely affix the provided shipping label to the top of the box.
Use the following address if you do not have a ready made label:
CollegeBooksDirect.com
8501 Technology Circle
Greenville, Texas 75402
Please ensure you have searched each title by its ISBN located on the back outside cover of the book. This ISBN is the basis for our pricing database. Compare the title listing on the packing slip with the book carefully to ensure a match. Be careful not to mistake a regular listing of a title for an alternate listing such as an annotated instructor's listing or free copy listing.
Which shipper do I use?
To use our prepaid labels

United Parcel Service (UPS) - Print a prepaid label at the end of a sell order transaction. Your sell order total must be more than $30.00 in order to generate a prepaid label. Drop the package off at any UPS location, or use the mailroom at your school or work.

To ship on your own

You can use any carrier method that is most convenient to you. However, Collegebooksdirect.com will not reimburse freight on transactions valued at $30.00 or less. CollegeBooksDirect.com will only reimburse you standard ground freight on transactions over $30.00. If you choose to ship to us via an expedited method, we will only reimburse what standard ground freight charges would have been. Any expedited method you choose to use will be at your expense. Remember to always pack your boxes tightly with plenty of packing material.

How do I print a collect shipping label?
This option will appear on the "Thank You" page of the sell order submission. It is required to complete a "sell order" function in order to produce and print a collect shipping label from UPS (United Parcel Service). You must log in to create and finish a sell order.